Fall is officially here and to me, that means the holiday season is upon us! With fall comes cold days and warm food! There's apple crisp, caramel apples, chili, Halloween candy, Thanksgiving, and Christmas! Whatever your favorite end-of-year foods may be, there's no doubt that many of us associate this time of year with FOOD.
However, it is often the repercussions of this season of over-eating that land us all in the gym with our newly obtained New Year's Resolutions to get back in shape and lose that holiday weight.
So before you get in too deep, make this holiday season different by trying some of these alternatives to your favorite holiday snacks.
Traditional Favorite: Caramel Apples
Healthier Alternative: Caramel Apple Salad
Can't get through fall without having a caramel apple? Try this chilled salad with apples, pineapple, butterscotch pudding and fat free cool whip for a lower calorie caramel apple flavor that will satisfy your craving! See the recipe here.
Traditional Favorite: Apple Crisp
Healthier Alternative: Weight Watchers Apple Crisp
Get some great apples at your local orchard and make this delicious apple crisp recipe from Weight Watchers. I used Honeycrisp apples in my recipe, which turned out great! See the recipe here.
Traditional Favorite: Chili
Healthier Alternative: White Bean Turkey Chili
With lots of fiber and protein, this white bean turkey chili makes a great alternative to traditional chili and it's large portion sizes will leave you feeling full! Make it in the crock pot too! See the recipe here.
Traditional Favorite: Pumpkin Bread
Healthier Alternative: Healthy Pumpkin Bread Recipe
Lower the calories, fat and cholesterol in pumpkin bread by using this quick bread recipe which uses yogurt & egg whites. See the recipe here.
Healthy Fall Foods
The holidays don't have to be associated with foods that are bad for you. Incorporate some of these nutrient-packed foods into your fall recipes.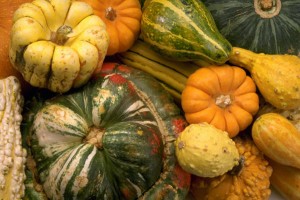 Squash: High in Vitamins A & C. Try butternut, acorn, & spaghetti.
Sweet Potatoes: High in Vitamin A, Potassium & Fiber.  Try in side dishes and desserts too!
Apples: Great source of Vitamin C & Fiber. Eat alone or try in a main course recipe.
Pumpkin: This vegetable is filled with iron, magnesium, niacin, potassium, vitamin A & C.
Mushrooms: High in vitamin C, iron, potassium, and zinc. Mushrooms have no cholesterol and low levels of sodium. They also contain a good amount of protein.
Pears: High in fiber and vitamin C, pears make a great snack or dessert. Try paired with pork.
Figs: Lots of fiber.
Beets: High in fiber, iron, potassium, and vitamin C. Roast or add to a salad.
Cauliflower: Tons of vitamin B6, potassium, and vitamin C. Also low in calories and high in fiber!
Cabbage: High in vitamins C and B6, the winter green also boasts a good amount of potassium, magnesium, thiamin, and dietary fiber for very few calories.
Carrots: High in vitamin A, C, & B6, as well as potassium, thiamin, and fiber.
Winter Citrus Fruits: Mandarin oranges, tangerines, blood oranges, and clementines are very high in vitamin C.
Potatoes: An abundance of vitamins C and B6, as well as potassium and fiber.
Broccoli: High in vitamins A, B6, and C, these little green trees are a very versatile ingredient.
Find recipes featuring these ingredients: Healthy Recipes for Seasonal Fall and Winter Foods