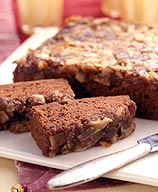 Chris's birthday is in a couple weeks. I asked him if he wanted a cake and he said he'd love a German Chocolate Cake but that he didn't want the points. I found this recipe on Weight Watchers and I'm going to try it out! I'll let you know how it goes.
POINTS® value | 5
Servings | 16
Preparation Time | 25 min
Cooking Time | 42 min
Level of Difficulty | Moderate
This moist, delicious chocolate cake is a sure to be a hit at the holidays or any time of year.
Ingredients:
1 spray(s) cooking spray
2 Tbsp light butter
3/4 cup(s) water
2/3 cup(s) unpacked brown sugar
3/4 cup(s) packaged shredded coconut
1/2 cup(s) chopped pecans
5 large egg white(s)
1 cup(s) buttermilk
1/2 cup(s) fat-free sour cream
1/3 cup(s) unsweetened applesauce
18 1/2 oz German chocolate cake mix, 1 package
Directions:
Preheat oven to 350ºF. Coat a 9- x 13-inch nonstick baking pan with cooking spray.
In a small saucepan over low heat, melt butter with water. Stir in brown sugar until smooth; pour evenly into baking pan. Sprinkle coconut and pecans evenly over melted sugar mixture.
In a large bowl, using an electric mixer set on high speed, beat egg whites for 30 seconds. Beat in buttermilk, sour cream and applesauce. Add cake mix and beat on low speed until moistened, about 30 seconds. Beat for an additional 2 minutes; pour into pan.
Bake for 40 minutes. Cool in pan on a rack. Cut into 16 pieces and serve.