My lifelong struggle with weight began at 19 years old; the year after I got married. Up to this point, I had been "tall" girl in high school, but never overweight. After I got married, I began to gain weight almost immediately. By the end of my second year of marriage, I had put on almost 80 pounds. Twenty years and two children added twenty more pounds. Unfortunately, at 41 years old I found myself 100 pounds overweight and feeling desperate. I had tried every diet known to man: Weight Watchers (at least 12 times), Adkins, Optifast etc…, but every time gained the weight back plus a few pounds.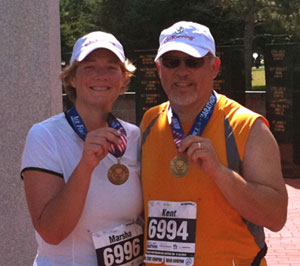 In 2003, I made a decision that would change my life forever. At 300 pounds, and feeling at the end of my rope, I chose the drastic measure of gastric bypass surgery. The months following the surgery were some of the most difficult in my life. Even with the daily reward of weight loss, my life long affair with food made it difficult to cope. I felt an unexpected sense of loss which forced me to take a hard look at the role food had played in my life. I now realize that I experienced some of the greatest personal growth of my life during that dreadful year. My life became balanced as I began to take control of my eating habits; however I knew something was missing from the equation–exercise.
Looking back, I am amazed at my journey from couch potato to taking charge of my fitness. Gastric bypass was the tool to get the weight off, but exercise became the way to maintain the loss. When I began running, I couldn't run to my mailbox. I remember the sense of accomplishment at each milestone; 1/4 mile, 1/2 mile, 1 mile, 2 miles and finally my first 5K.
Signing up for my first race was just the motivation I needed to get up every morning and train. The bonus was that losing a bit of weight was a natural byproduct of my new lifestyle. I found inspiration through reading "No Need for Speed" by John Bigham and "Slow, Fat, Triathlete" by Jayne Williams. Taking advantage of the tools for training, searching for inspiration and the encouragement I received from friends and family enabled me to attempt something I never thought (even in my wildest imagination) I could–running a 1/2 marathon. I completed my first USAF 1/2 Marathon in 2009. Crossing that finish line was one of my proudest accomplishments. Since then I have completed another 1/2 marathon and consistently run/walk to stay in shape.
My life is far from perfect. I have a million other things that I need to work on—but this I know for sure, balance, for me, has been found in focusing on my health through running.  Not only have I been able to keep the initial weight loss from creeping back on, but I have experienced great personal satisfaction through pushing myself to become healthy.
———————