I decided to restart my running on December 1, 2010.  I went to a Christmas Party, with my wife, and photos were taken by friends, who posted the party photos on Facebook.  I was not happy with how I looked.  During 2010 I kinda fell off running which started after I completed the Clayton/St. Louis 1/2 Marathon in November 2009.  I was so discouraged by my run that I kinda took a break and of course began to eat more.  So I decided on December 1, 2010 to focus on weight loss and running.  I am about to wear out a treadmill which I used during winter months.  I decided to have a goal of running/walking the Springfield 1/2 marathon in April 2011. So I ran, I walked, I reduced my food intake and began to lose weight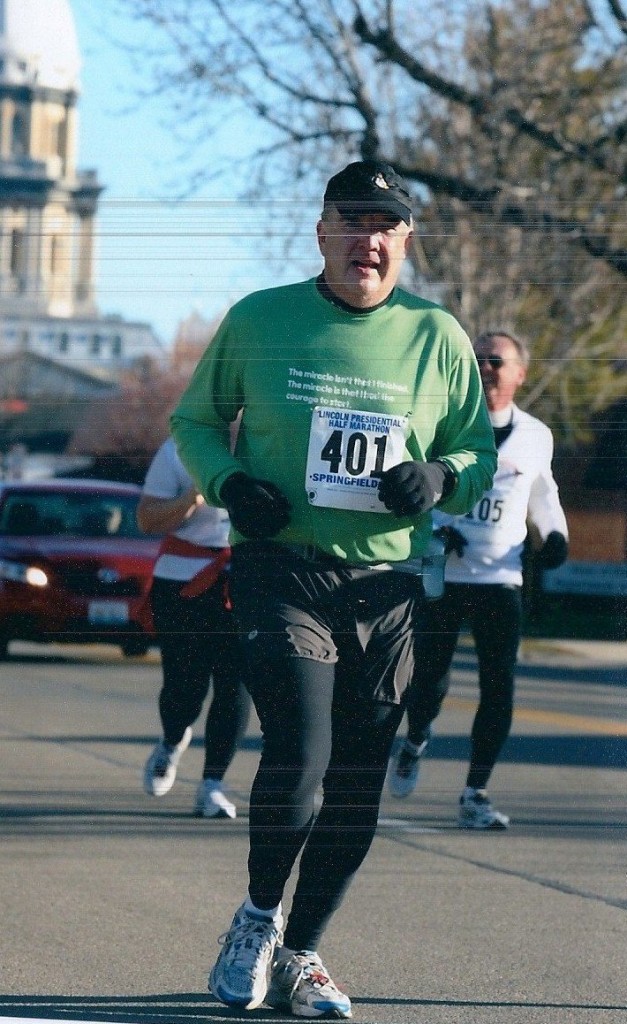 Q: What is/are/were your diet and/or exercise goal(s)
A: My diet is to keep my calorie intake to 1200 to 1500 calories per day.  I eat a bowl of oatmeal and an orange every morning for breakfast or a Cliff Bar.  They are great and have many different flavors to choose from.  I eat a salad for lunch or if I'm on the road I may stop at Cracker Barrell for the whole Lemon/Pepper Trout and a small bowl of green beans.  For dinner, I eat with my wife, and just watch my portions.  I exercise almost everyday running/walking between 4 to 6.5 miles per day.  Today I am going to try to get 10 miles in if time permits.
Q: What has been your experience with weight in your life?
A: I am diabetic, Type II.  That means I am or have been a short fat white guy.  My blood sugar count was not bad but I was on insulin injections and a blood sugar reduction pill.  My father died from diabetic related complications and my Doctor wanted to start me on preventative medicines. Now my A1C levels (Blood Sugar) is way down.  I'm off my insulin and my weight is down considerable
Q: Have you always been athletic or is it something you picked up later in life?
A: Ever since I was in 5th grade I was involved in track and field events.  Sprints Sprints Sprints!!! I never ran long distances unless I absolutely had too.  This running activity continued till my freshman year in college.  Since that time, 30 plus years, I worked, raised a family, and did nothing.  In 2008, I just got the bug to begin walking.  One night while on the road, I just tried to run for 1 mile.  What an effort, but I did it.  So I included a 1 mile run in my routine.  Now I'm up to running/walking 4 to 6.5 miles per day.  Sometime longer if I can get the time.  I have been know to get out on the road at 3:30 a.m. to complete my workout before work.  Its hard to get out of bed at 3:30 a.m. and exercise.  Believe me, I've see alot of animals on the road at that time in the morning, but I just keep going and hope the good Lord is watching over me.  I also carry my cell phone too!
Q: Have you lost a lot of weight? How much have you lost and how did you do it?
A: July 2010 I weighed 220, and as of June 2011 I reduced my weight to 183.  Because of alot of work I did not get as much work out as I could lately, and I've gained a few pounds back, but I am determined to reach the 170's before Christmas.
I would encourage anyone reading this to start with small goals.  Look to lose just 5 lb. at first, or just walk 2 miles at first.  When you begin to lose weight and find that 2 miles doesn't get your heart rate up, try another mile of walking or try to run 1/4 mile.  DON'T HAVE BIG GOALS!!!  You will not make them, start with small goals.
Q: What have been your biggest struggles while exercising and/or dieting?
A: My biggest struggles is fighting laziness and not wanting to exercise or watch my eating habits.  We are all creatures of habit and it is hard to fight a life long habit.
Q: What has been your greatest accomplishment?
A: I have run 3 1/2 marathons and over 35 5 and 10K's since 2009.  I have had a blast at those!
Q: Who is your biggest inspiration?
A: My Dad
John Bingham, is credited with the following quote, I live by it!
"The miracle isn't that I finished. The miracle is that I had the courage to start"
Be selfish and do what it takes to do what is best for your health.  Family and work will be o.k. do for you!
———————