On October 21, 2012, I ran my fourth half marathon! I can't believe I already have four half marathons under my belt!
Honestly, the training I did for this half marathon was as little of training as I have ever done. The longest distance I ran all summer was 4.5 miles! Since I had trained hard for Indianapolis in May and tore my left IT band, I decided I shouldn't push it too hard for this one. Besides, I was definitely avoiding the really hot summer we were having.
So, with little training, and feeling totally unprepared, I traveled to Columbus with no high expectations for this half marathon. I just wanted to finish injury-free.
I was pretty disappointed with the Columbus Marathon Expo. We went mid-day the second day of the expo and they didn't seem to have much race merchandise left (if it was ever there). Now this race is the only half I have done that is not represented in a 13.1 sticker on my car. Bummer.
Not to mention that the "women's cut" shirt was way too small. Who came up with that women's cut anyway? It's always small, really short sleeves, and short! Talk about generalizing body types…

Race morning was COLD! There were very general corrals marked A-F. My friend, Sara, and cousin, Jascia were all in the same corral as I was, even though we had very different predicted finish times. By the time we started, we had been waiting in the cold corral for about an hour. The last couple corrals were around the corner from the start line, so we didn't get to see the fireworks go off. However, it was pretty funny to see the entire crowd jump when a cannon was fired off several times!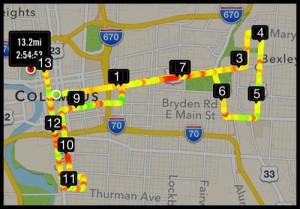 Throughout the race, I paced myself pretty well, compared with other races I have done. My pace only differed about 30 seconds or so from mile 1 to 13. I ended up sticking with a run 5 minutes/walk 1 minute ratio (which I made up at mile 1 and stuck to it). Maybe someday I'll be able to run 13 miles without stopping :)
The scenery of Columbus wasn't too spectacular. There weren't many major landmarks to see, so I actually didn't take any pictures while on the race course for once. Although, each mile marker had a sick child from the children's hospital sitting at it (Nationwide Children's Hospital Columbus Marathon). I'm sure a lot of people thought it was cute… I just kind of thought it was a strange setting for that.

The course was very flat with long stretches of no turns. And the finish! The finish was downhill! Very nice.
In the end, I set a new half marathon PR of 2:54:53! A full 9 minutes below the time of my last two half marathons AND I broke the 3-hour barrier! Only afterwards did I find out my mom's PR is 2:53… argh! So close! Next time for sure.
Overall, it was a great, flat, fast race with great weather. It was probably all of the excitement you would really expect from Ohio. Another state checked off my list of all 50 states! Four down, 46 to go! Next up, Kentucky & North Dakota in Spring 2013!