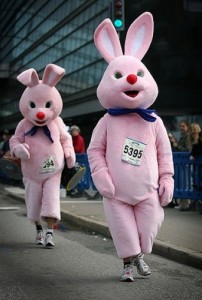 Miles for 4/24/11: 2 Miles
Total Miles: 49 Miles
Last Easter, Chris & I went to play some tennis. It was a nice day outside and obviously no one was at the courts due to the holiday. It was the first little bit of exercise that we had done in a long time. We hadn't even started dieting at that point. I thought I'd commemorate that day by going out for a run before Easter brunch with my family.
This run brings me to almost 50 miles for Relay for Life (see Running for Relay). I was really hoping to have many more miles racked up by now, but I think I made my goals a little too high for myself. Mix that with a little bit of slacking and unseasonably cold & rainy weather and you get not many miles. Plus it's kind of hard to estimate how many miles you cover in any given period of time when you have never counted before. Maybe I should make my new goal somewhere between 75 – 100 miles before the end of June. I can do that :)