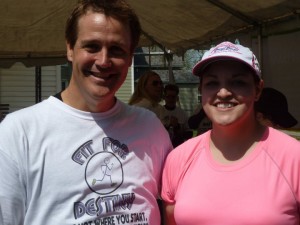 Miles for 4/17/11: 3 Miles
Total Miles: 47 Miles
Today I ran the Fit For Destiny 5k in Moweaqua, IL. This race was led by The Biggest Loser season 8 winner, Danny Cahill (pictured, with me). There were quite a lot of people there, both runners and walkers. Danny made sure to cross the finish line with the very last finisher.
This race started late, at 1 p.m. I think I now understand why races are usually so early in the morning. In the morning, you aren't awake long enough to debate going to the race or not. At my last race, which started at 12 p.m., I debated going and then did end up going. This race started even later than that and I really didn't feel like going. But at the last minute, I did go and I was glad I did. It was a nice day out and the course was very flat. Ever since the "Run, Walk, Roll" 5k in Springfield, I haven't felt much like running. The wind was so intense that day, I could barely run at all. It was kind of like those dreams where you are running but not getting anywhere…
I'm not signed up for any more races right now. I definitely have plenty to pick from (see the Central IL Race Calendar). May is looking pretty busy on my calendar, so the next one I might end up doing is the Forsyth Family Fest 5k. I came within seconds of getting 3rd place in that one last year… maybe I'll get there this year ;)