It's the start of summer! That means the Shoreline Squad Training Program is just around the corner! Many Decatur-area runners look forward to the squad every year. Whether you are an experienced runner or want help training for your first 5k, the Shoreline Squad is the place to be!
Register for the Shoreline Squad here!!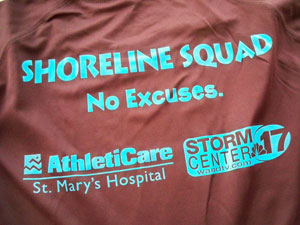 So what is the Shoreline Squad exactly? The Shoreline Squad is a 13-week running training program led by certified athletic trainers from St. Mary's Hospital. The squad sees massive growth every year, with hundreds signing up every summer!
Entries accepted through July 14th
Registration must be done online and will not be offered at the kick-off meeting or training runs.

Important Dates
Tuesday, June 19, 6pm – Kick off & packet pickup
Thursday,  June 21, 6pm – First squad run
Saturday, July 14 – Last day to register for the Shoreline Squad
Every Thursday, June 28-September 13, 6pm – Squad runs
Sunday, September 16 – Shoreline Classic 5k & 15k
Cost
Shoreline Squad Program $70
Shoreline Squad Program (Decatur Running Club members) $60
Shoreline Squad Program (age 17 and under*) $50
Shoreline Squad Walking Program** $45
* Members need to be 16 years or older (as of 6/23/11) to participate unless accompanied by a parent or guardian.
** Entry Fee NOT included for walking program unless walkers separately register for Shoreline Entry.
How It Works
The Shoreline Squad meets once a week on Thursday evenings at Nelson Park in Decatur, Illinois to do training runs together. Because the group has gotten so large, runners are split up into numbered squads based on average pace and which Shoreline Classic race you have signed up to do (the 5k or 15k). The night of the first run (June 21, 2012), participants of the squad will run or walk 1 mile at a pace that is comfortable for them. Then, based on your finish time of 1 mile, you will be put into a smaller squad of about 15-20 other runners that run at your same pace. You will run with your smaller squad up until race day. Each of the smaller squads are led by an experienced runner who will lead their own squads through training runs and warm-ups plus answer any questions you may have.
Based on last year's feedback, walkers will participate at a reduced rate and have the option to sign up for the Shoreline Classic 5K separately should they wish to enter.
What You Get
With your Shoreline Squad registration, you will receive a special Shoreline Squad dri-fit tshirt and a weekly training schedule. In addition, the cost of the Squad also includes entry to the Shoreline Classic. The Shoreline Classic 5k & 15k will be held Sunday, September 16, 2012. All finishers receive a long-sleeved dri-fit shirt and finisher's medal.
News TV station, WAND, also covers the progress of the Shoreline Squad, so you may be on the news! View the 2011 videos here.
So not only do you get lots of great race swag, but your Shoreline Squad experience is one that you won't forget. It is the one place that you can meet and run with hundreds of other local runners. Many people meet running partners at Shoreline Squad and continue to run with them after the race!
Volunteers
The Squad is a great time to start running. I first joined in 2010 and had never run before! I had a great time through the summer and by 2011, I was a squad leader. As a squad leader, I got to lead my group through training runs and for many of them, it was their first 5k! It was a very rewarding experience.
The Shoreline Squad is currently looking for volunteers to participate as squad leaders. You must be an experienced runner or walker, be able to make all weekly squad runs, and be accessible to your squad members through email, phone, or facebook to answer questions and offer motivation.
The Shoreline Squad is especially looking for mid- to back-of-the-pack runners to help with the 5k squads. Squad leaders receive free Shoreline Squad & Shoreline Classic entries plus the free Shoreline Squad dri-fit shirt. If you are interested in volunteering as a squad leader, email shorelinesquad@gmail.com.
Information about the Shoreline Squad can be found on their website or facebook page.