Abe's Army is SRRC's premier 12 week training program to prepare runners and walkers to complete the Abe's Amble 10k at the end of the Illinois State Fair.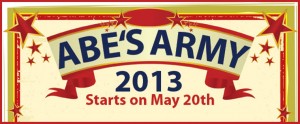 Participants find that the group training program is highly motivational and easily sets up long lasting supportive relationships with many new friends and acquaintances. Sign up today and find your inner active self as well as prepare to complete a 10K by August 18th!
Orientation is Tuesday May 14th at the Dove Conference Center at Prairie Heart Institute. Leaders at 5:30 and Participants at 6:30pm.
The Training starts on Monday May 20th at the Illinois State Fairgrounds across from the Grandstand.
Abe's Army participants are divided into groups of 10-15 based on similar fitness levels and led by 2 or more leaders per group. Their are 4 group types: runners, walkers, powerwalkers and racewalkers.
Registration Fee: $60 for club members and $75 for new participants (includes the 2013 membership dues).
The registration fee includes 12 weeks of group instruction; organized group runs and walk; Abe's Army moisture wicking T-Shirt; Training Log; Smart ID band; Entry fee into Abe's Amble which includes another T-shirt; entry into the State Fair on race day with free parking; a post race awards party with snacks at the fairgrounds, a 20% off coupon at the Springfield Running Center and a Abe's Army Picnic following the last training run.
All Monday night group run/walks include experienced leaders, water and Gatorade and on-sight injury consultation with Athleticare physical therapists.
For more information, visit the Springfield Road Runners Website.