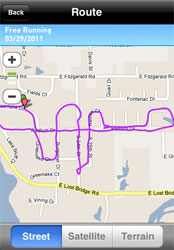 Miles for 3/29/11: 3 Miles
Total Miles: 35 Miles
Today I'm going to talk some more about the technology I use while running. I love to read the data from my workouts (like time and pace) so I can see myself improving or see what I need to work on. Some people don't like to use technology during workouts, and that's fine, but I like to see progress – it's motivating!
I'm currently exploring iPhone apps for running. There's so many out there and I'm still trying to find a good app for tracking my workouts. I really like the Tap-A-Lap app for use indoors on the track but can't find one for outdoors that seems to do everything I want it to do while remaining accurate.
Yesterday I tried out the Adidas MiCoach app for the first time. I regret not using my GPS watch at the same time to compare data. It said that I ran 2.66 miles but I think I ran 3, since I have run that route many times. I doubled back a couple times and I don't think it could track that.
I liked that it can track how many miles I've put on my current pair of shoes. It also will map out the route that I took so I can look at it later. My current GPS watch won't let me view the data per mile of my workout. It will display it to me while I'm running, but if I want to see what my splits were later, I can't.  Another nice thing about the MiCoach app is that you can have a coach talk to you and you can pick different workouts. It will also read aloud each mile's stats (such as pace, time, calories, etc.), so you don't have to spend time reading it.
So today I am going to use the GPS watch and the MiCoach app together and see how the data compares. This app seems to have a lot of functionality and possibilites, so I'll give it some more time before I make my final decision on it.