Shoreline Squad 5K Training Schedule
I was introduced to running a 5k by training in the summer of 2010 with the Shoreline Squad, a training program that gears you up for running either the Shoreline Classic 5K or 15K. Now I am a "squad leader" for the program and enjoy introducing even more people to the program every summer. The group provides a training calendar to the Shoreline Squad members.  The Shoreline Squad meets once a week at Nelson Park in Decatur, IL during the summer to do a squad run together. If you'd like to join the Shore Squad, visit their website.
Click here to view & print the 2011 Shoreline Squad 4-month training schedule.
My Second Half Marathon Training Schedule
With 8 weeks notice, I trained for the St. Louis Rock N' Roll Half Marathon, which was held on October 23, 2011. Here's the 8 week training schedule that I used: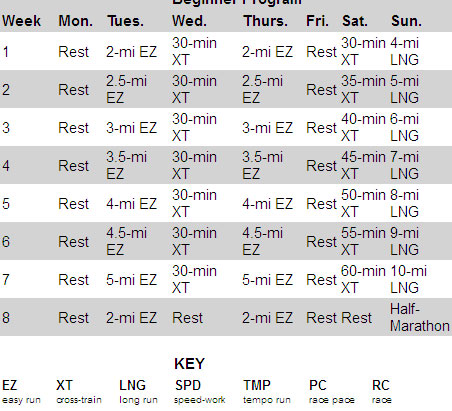 My (First) Half Marathon Training Schedule
For my first half marathon, the Disney Princess Half Marathon, I followed the Half Marathon Training Schedule from the book, The Nonrunner's Marathon Guide for Women. I like this training schedule because it starts out in minutes, not miles, but then gradually goes to mileage per day.
I used the 12 Week Beginning Half Marathon Plan. The book offers a Run/Walk schedule or a Run Only version.
I ran (and finished!) my first half marathon in Orlando, FL at Disney's Princess Half Marathon on February 27, 2010! Read about the race!