April 27, 2018 Start location: Research Park at University of Illinois City/State: Champaign, IL
Start time: 7:30 pm Distances & Categories:
---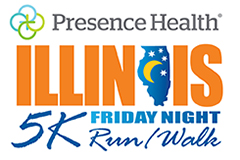 The Presence Covenant Medical Center Illinois 5K Run/Walk is part of the Christie Clinic Marathon, Half Marathon, Marathon Relay and 10k event. The 5k takes place on Friday night with the other races in the Christie Clinic Illinois Marathon taking place on Saturday morning. Participants that participate in the 5k on Friday evening AND one of Saturday's events will receive a special I-Challenge medal and shirt. See below for details.
The race starts on Oak Street, south of St. Mary's Road, runs through campus, and finishes on the 50-yard line of Memorial Stadium.
All participants must pick up their packets (race number, goody bag, and race shirt) no later than Friday, April 27, at 7 pm during the Health & Fitness Expo at the Activities and Recreation Center (ARC). The expo is open Thursday, April 26, 4 p.m. to 8 p.m., and Friday, April 27, 10 a.m. to 7 p.m. Contact the race hotline (217-722-5025) if your travel plans prevent you from picking up your race packet (race number, goody bag, and race shirt)..
5K entrants will receive a unisex technical shirt color TBD and a drawstring backpack. Finishers get a great medal, finish line food and drink, and one beverage at the 27th Mile Celebrate Victory Bash on Saturday. (Entrants must display their race bib to receive the beverage.)
The I-Challenge
Runners who complete the 5K on Friday and then the 10K, half marathon, full marathon, or marathon relay on Saturday will receive a special I-Challenge medal. This means, in all, you will receive:
Two shirts (5K plus 10K or half or marathon)
Three medals (5K, plus 10K or half or marathon, plus an I-Challenge medal [different for each I-Challenge])
Bragging rights
Find more information about all the Illinois Marathon events at the official race website.
See more races in:
1 Mile 5K 10K Half Marathon Marathon Relay Mud & Obstacle Runs Night Races Races for Kids Trail
---
---
Disclaimer
Notice: Fat at the Finish is a free race listing website serving the Central Illinois area. We are not the organizers or race directors of ANY event. Any questions or concerns regarding the races listed on this website should be directed towards the organizers of the race, of which the contact information can be found at the race's official website or contact information may be listed on this website.
Fat at the Finish Central Illinois races information is subject to change. Please verify all race dates, times, locations, prices, etc. with the official race website, flier or race director. If you would like to promote a central Illinois race on this website, please Submit a Race or email nicole@fatatthefinish.com.
---