During my long drive to the Detroit Free Press Half Marathon, I began to ponder my seemingly short history with distance running. It suddenly dawned on me that it has almost been four years since my first half marathon! It really seems like just yesterday that I completed the Disney Princess Half Marathon.
Despite feeling like I've just begun, this year I have tried to up the ante and give myself small challenges to complete every month to keep me motivated. Some of the challenges laid themselves out, since there were just too many races I wanted to do and some I planned to test my limits. Mostly though, I just wanted a lot of bling!
May Challenge: Two 10k's and a Half Marathon over 3 weekends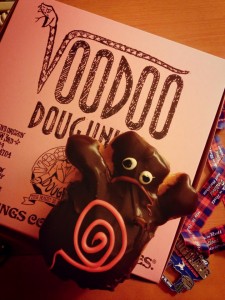 The first weekend of May, I traveled to Cincinnati, Ohio to take part in the Flying Pig 10k. This was already going to push my limits as I did the Nashville Country Music Half Marathon the Saturday before. The hilly race was lots of fun. I was glad the hills weren't as bad as Nashville's were!
On the second weekend of May, I did the Kirby Derby 10k in Monticello, Illinois. I had never done this race before but I wanted to try something different this year, and hey, it gave me a medal! Finally, on May 18, I traveled by myself to Portland, Oregon for the fourth weekend in a row of races. I ran in rainy Portland to complete my 13th half marathon. Wow! What a month. I even had my best half marathon finish time of the year.
June Challenge: A 10k followed by a 15k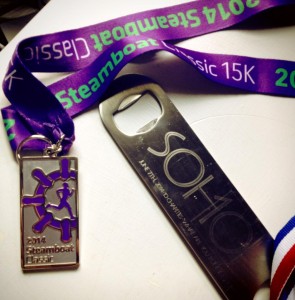 A new 10k race in Springfield, Illinois to be held on June 7th really intrigued me, however I also wanted to do a very hilly 15k the next weekend. Thus, my "June Challenge" was formed. The first weekend of June, I ran the SOHO 10k, which was held for the first time in conjunction with the SOHO Music Festival. Although the inaugural race had some organizational glitches in the beginning, it did offer some great participant perks such as free music festival entry & drink tickets, a tech shirt and bottle opener medal. The following weekend, I participated in the Steamboat Classic 15k in Peoria, Illinois. I did this race in 2013 as well but nearly finished last both times. A fast field combined with intense hills should turn me away from this race but for some reason I still love it! The race is well-organized and offers a big city race feel in it's great swag and fantastic finish line.
July Challenge: 5k and Half Marathon One Weekend – 7 Mile Race the Next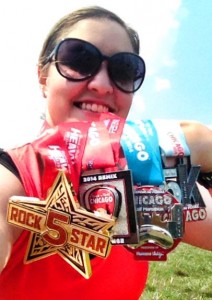 I had one sweaty July running 23.2 race miles in 7 days! I fell in love with the Chicago Rock n' Roll half marathon medal when I saw it on their Facebook page. I had to sign up! Yes, I know I have a serious medal problem. This year, I purchased the Rock n' Roll Marathon Series Tour Pass, which allowed me to sign up for any of their races for free. Since I am a short, 3-hour drive from the Windy City, I built my "July Challenge". I signed up for both the 5k and the half marathon, which would give me three medals. I then got an additional medal for then completing five of the series' half marathons in 2014. I celebrated at the Grant Park finish line with four heavy medals around my neck! What a feeling of accomplishment! That was Sunday. The following Saturday, I traveled with my mom and cousin to Davenport, Iowa to experience my first Bix 7 race and meet the famed Brady Street Hill. I conquered the 7 hilly miles with more ease than I expected and had another successful month challenge.
August Challenge: Hardest Obstacle Course Ever… then a 10k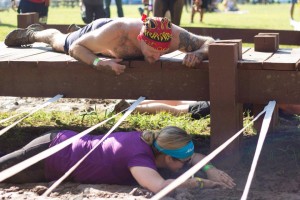 I'm a runner. I have terrible upper body strength. Yet I was talked into participating in Ohio's Mud, Guts & Glory: The Midwest's extreme mud obstacle course. "5 Miles. Over 30 Obstacles. 1,200 Vertical Feet. Thousands of rocks, stumps, creek beds, ravines and cliffs." They weren't kidding. This obstacle course was no joke. Even though I had tons of help, it still took me 4.5 hours to complete 4 of the 5 stages. I got electric shocked, climbed a huge muddy tower, climbed over fallen trees, trekked through mud up to my knees, and even lost my socks! Needless to say, I could barely move the next morning. However, the next morning, my cousin and I had already signed up for the Little Miami Half Marathon & 10k. I did the 10k, cousin did the half. I was SLOW but I did finish!! Later that night, I needed assistance getting up from a laying position. I have really never been so sore in my life. Wow… August challenge barely completed.
October Challenge: A race (or two) every weekend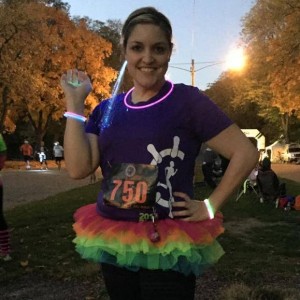 Gosh, October is such a popular month for running! The weather is just perfect. My October challenge almost formed on its own with all the races I wanted to do this month. During the first week of October, I realized I was signed up for a race every weekend except for that first weekend, so I quickly looked up some local races happening and found some fun looking runs happening that Saturday. As it happened, there was one race at 9 a.m. Saturday and one at 2 p.m. Of course, I thought, "how perfect, I could do both!". So Saturday morning I joined a co-worker in doing the Run to End Alzheimer's 5k in Forsyth, Illinois and later that afternoon, ran the Robin Vogel Memorial 5k in Decatur, Illinois. The next weekend was the annual Sand Creek Trail Run – an approximately 4.5 mile trail run that would complete my Decatur Running Club Grand Slam Medal for 2014. The following weekend, I drove about 7 hours up to Detroit, Michigan to take part in the fantastic Detroit Free Press Half Marathon. I can't say enough about how fun and different this race was. Plus I can now say I have run internationally, since we went into Canada for a little over three miles of this race. Finally, on the last weekend of October, I teamed up with three friends and did the Screaming Pumpkin Marathon Relay in the dark Springdale Cemetery of Peoria, Illinois. You can read more about that fun experience here.
So, What's Next?
I've already started signing up for more races and more challenges for the rest of this  year and well into 2015. I will be doing the Rock n' Roll Las Vegas 5k and Half Marathon on a Saturday and Sunday in November. Then, with January 2015 comes my biggest challenge yet – the Back2Back Challenge of two half marathons in two days then just two weeks later, another half marathon in New Orleans. Three half marathons within one month! I have also signed up for two more race challenges in 2015: Little Rock, Arkansas 5k & Half Marathon and the Mini I-Challenge (5k & 10k combo) in Champaign, Illinois.