October 15, 2017 Start location: University of Illinois - Springfield City/State: Springfield, IL
Start time: 7:30 am Distances & Categories:
---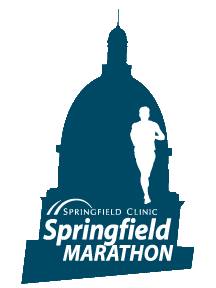 The Marathon, Half-Marathon, 10K and 4 person Marathon Relay will be held Sunday October 15th, 2017 starting at 7:30am for all events.  The Springfield Marathon 5K will be held on Saturday 10/14 at 5pm at the Springfield MUNI after packet pickup.
Capital Challenge: If you register for the 5K and one of the events on Sunday you will also earn a Capital Challenge Medal.  This is only available to those that take one of the "Capital Challenges".
Capital Challenge FULL – 5K and Marathon
Capital Challenge HALF – 5K and Half-Marathon
Capital Challenge MINI – 5K and 10K or one leg of Relay
Registration for a Capital Challenge earns you 2 t-shirts and 3 medals!
A beautiful, scenic run around the UIS Campus, Lake Springfield area and for the marathon on the country roads SE of Lake Springfield.  You'll see the beautiful fall foliage around the lake and friendly faces of hundreds of volunteers during your run.  You'll receive a one of kind finisher medal, high tech shirt, food and virtual goody bag full of offers from local restaurants and businesses.
Packet pick-up and Expo is Saturday, October 14th from 11 am to 4 pm in the TRAC building (REC Bldg on some maps) at The University of Illinois at Springfield (UIS) Campus.
More Information
Race Website: springfieldmarathon.net
See more races in:
1 Mile 5K 10K Half Marathon Marathon Relay Mud & Obstacle Runs Night Races Races for Kids Trail
---
---
Disclaimer
Notice: Fat at the Finish is a free race listing website serving the Central Illinois area. We are not the organizers or race directors of ANY event. Any questions or concerns regarding the races listed on this website should be directed towards the organizers of the race, of which the contact information can be found at the race's official website or contact information may be listed on this website.
Fat at the Finish Central Illinois races information is subject to change. Please verify all race dates, times, locations, prices, etc. with the official race website, flier or race director. If you would like to promote a central Illinois race on this website, please Submit a Race or email nicole@fatatthefinish.com.
---