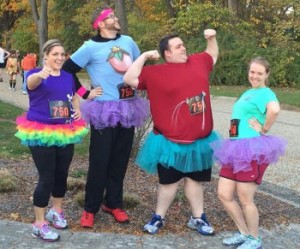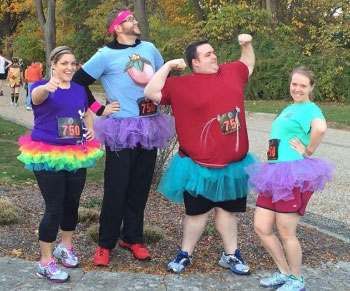 On October 25, 2014 three friends and I tackled the rough roads of Springdale Cemetery in Peoria, IL for the Screaming Pumpkin. This race is a prediction marathon or marathon relay, meaning that the winners of the race are those that finish closest to midnight without going over. Racers could start any time after 6 p.m. to run for the length of time predicted to finish at midnight. No GPS watches or electronics are allowed so that you do not know time or pace.
The weather was unexpectedly warm, which made the night much more enjoyable than when I did this race in 2012. Since we had to wait for all four runners to complete their leg of the 6.55 mile loop, there was a lot of waiting around time.
Our team name was Tutu-riffic, so the team of two men and two women all wore tutus and as much light up and glow things as we could find! Since running a race in complete darkness is pretty rare, I always think it's fun to be glowing on the race course!
The course itself is incredibly challenging. First, you run primarily alone in complete darkness with the occasional passerby. In addition, the terrain, although paved, is full of potholes, dropoffs, rocks and other debris – so a bright flashlight is very important! Plus there are steep hills throughout the course!
Even though I think the Screaming Pumpkin is tons of fun, I'm still a huge wuss when it comes to anything scary. I don't watch horror movies and I can't do haunted houses. So running by myself in complete silence, surrounded by gravestones in the dark definitely motivated me to run faster at times! Sounds really tend to play tricks on you out there. Eek!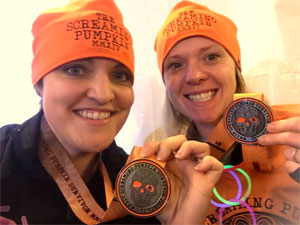 The Screaming Pumpkin has awesome swag. Participants of the relay receive long-sleeved tech shirts, a moisture-wicking beanie hat, and a fantastic finisher's medal. The finish/start area is also tons of fun, featuring a band, heated tents, and plenty of food.
This marathon relay continues to be one of my favorite themed races. Well organized, great take-aways, great participant spirit and awesome volunteers. Be sure to check out this Peoria race next Halloween!