On Sunday, October 23, I was ready to run my second half marathon! I ran this race with my cousin, Jascia, and my friend, Amanda. I was nowhere near as nervous as I was for my first half marathon. I knew I could finish in plenty of time and I knew I was a better runner now than I was even 6 months ago. My goal was to finish somewhere around 3 hours.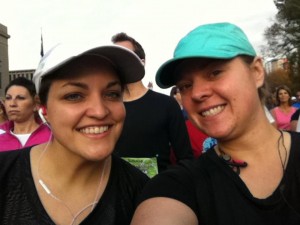 At 5.5 miles, I was feeling great and having a blast! I knew I was going to be a little disappointed when the race was over. We were making good time and sticking to a run 1 minute, walk 1 minute pace to not tire ourselves out. Amanda & I had planned to run together the whole way unless we just couldn't stay together anymore.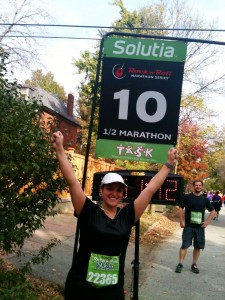 Unlike my first half marathon, I more or less stuck to my run/walk pace the whole time. I always walked through the water stops and uphill, so my timing got a little thrown off. During the half in Florida this February, I tired out by mile 10 and walked the last 5k of the race – not this time.
The worst part was the last mile or so was ALL uphill. I kept waiting for it to flatten out like it had been doing throughout the course, but it became clear that it just wasn't going to be flat until I was finished.
With 40 minutes left until the 3 hour mark, I began to notice that it was going to be really close whether I finished in my 3 hour goal. As I continued to run as much as I could, I just couldn't be sure whether I would make it at 3 hours, under 3 hours, or over 3 hours. I didn't really care how close I got, as long as I beat my 3:37 time from my first half marathon.
As the finish line was (finally) in sight, the excitement of finishing was so great that I didn't care what my time was going to be and I ran as fast as I could to the end! On the way I caught sight of my mom cheering me on from the sideline.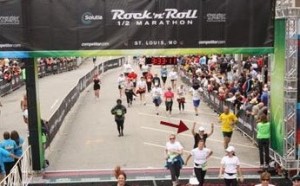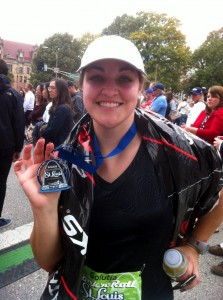 I had SO much fun running this race. Running the majority of it with a friend (Amanda) made such a huge difference. I can't wait for my next half marathon… really… I've already signed up for one! Next stop… Indianapolis "OneAmerica 500 Festival Mini-Marathon"!
See an eye-level view of the St. Louis Rock n Roll Half Marathon course: