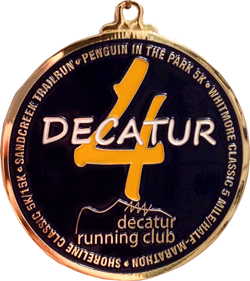 The Decatur Running Club of Decatur, IL is once again hosting the "Grand Slam" medal challenge. All runners/walkers that complete 4 out of the 5 chosen Decatur, IL races in 2013 will receive a special medal.

Each year the main "Decatur 4" races will be part of the Grand Slam Medal Series with one additional race that will be chosen every other year. The "Decatur 4" consists of Penguin in the Park 5k in March, Whitmore Classic in May, Shoreline Classic in September and Sand Creek Trail Run in October.
The 2012-2013 5th featured race is the American Heart Association 5k in April.
More information on the Grand Slam Medal races: